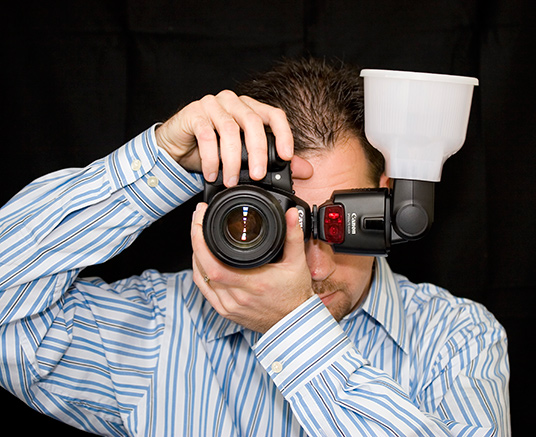 Portraits have become an excellent way to show the dramatic effects of cosmetic dentistry. Patients relate better to attractive "before and after" portraits than they do to closeups of teeth. Until now, you had the option of using the clinical flash (direct, harsh portrait lighting) or setting up a portrait lighting kit (soft, attractive lighting) that takes up a significant amount of room and is complicated to implement.
PhotoMed's "Quick & Easy" Portrait Package makes taking beautiful portraits incredibly easy. The custom flash diffuser was designed by a professional wedding photographer. Light from the flash is redirected in all directions. The result is smooth, even lighting without harsh reflections or deep shadows.
The package also includes a unique black background made from a fabric called Duvetyne that is non reflective. The background is designed to hang on a wall or you can drape it over a door if space is at a minimum.The background is 34" x 48" and includes hanging chain on one end and grommets on the other end.

The Duvetyne background is available in Black or reversable Black/White.

The "Quick & Easy" Portrait Package is available for Canon and Nikon cameras.
The "Quick & Easy" Portrait Package was developed with the assistance of Dr. James Dunn and Dr. Richard Young.

The images shown above clearly illustrate the effect of the Gary Fong Lightsphere II Portrait Diffuser.

The first image is a direct flash shot (no diffuser) - the flash is pointing straight at the model. The second image was taken with the flash pointing up at the ceiling (no diffuser). Notice the deep shadows in the eyes and under the chin. The third image was taken with the Lightsphere II Diffuser attached to the flash and the flash pointing at the ceiling.

All three shots were taken in the same place (a hotel hallway outside of a seminar) and under identical conditions.


PhotoMed "Quick and Easy" Portrait Packages
All packages include the Duvetyn Hanging Background (choose Black or Black/White reversable), Gary Fong Lightsphere II Portrait Diffuser, 22" reflector and a flash (choices shown below):

Portrait Package with Canon 430EX III RT Flash

with Black Background
529.00

with Black/White Background
579.00

Portrait Package with Nikon SB-700 Flash

with Black Background
529.00

with Black/White Background
579.00
Portrait Package Individual Components
PhotoMed Portrait Background

Duvetyne, non-reflective black, 34"x48", includes hanging chain and grommets on other end. (click image for a larger photo)
PhotoMed Portrait Background - Reversable - Black and White

Duvetyne, non-reflective, reversable black and white sides, 34"x48", includes hanging chain and grommets on other end. (click image for a larger photo)
22" Photographic Reflector

Collapsible. Silver and white sides