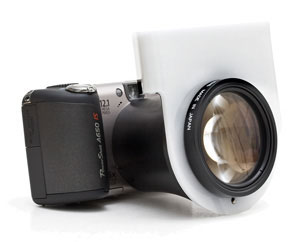 The Canon A650 is their latest update to the long line of excellent A-Series cameras. Previous A-Series cameras came with 4x optical zoom lenses.
The A650 features a 6x optically stabilized lens. This means that when outfitted with the PhotoMed Closeup Attachment Kit, the A650 will focus on a field only
0.9 inches wide. This is the same size field that our digital SLR cameras will focus to.

The LCD screen is the same size as the previous models but is much higher resolution. The A630/A640 screen has 115,000 pixels - the A650 screen has 175,000 pixels.
Click here to continue to read about the PhotoMed A650



Canon and Nikon have announced new models, but they have both been taking their time in releasing them. The Canon Rebel XSi is set to replace the popular Rebel XTi. As usual, there is a bump in resolution (from 10MP to 12MP) and a larger LCD screen. The big update is a new version of "Live View". This feature allows you to use the LCD screen as a viewfinder and it appears that (unlike the 40D), you will be able to use Live View in autofocus mode. We will know more as soon as Canon begins shipping the XSi (hopefully in the new few weeks).

Nikon also announced the D60 which will replace the D40x. Although very little has changed, the few changes are useful for dental photography. Nikon has added a sensor cleaning system (to help keep dust off of the sensor) and a white balance adjustment system very similar to Canon's. Like the D40 and D40x, the D60 will only work in autofocus mode with Nikon lenses that have the focusing motor built into the lens. Otherwise, it is manual focus only. This is not a problem for clinical photos, but if you use the camera recreationally, you may need to purchase new lenses if you want autofocus.

The Nikon D60 will start shipping soon, but only in kits (with an 18-55mm lens). Nikon says that the D60 "body only" shipments will start in July.

If you would like to pre-order either camera, please call us at 800-998-7765. As soon as these cameras are readily available, they will both be on our website.



PhotoMed International
14141 Covello Street #7C
Van Nuys, CA 91405



800-998-7765
818-908-5369
FAX 818-908-5370

www.photomed.net
info@photomed.net




The continuing devaluation of the U.S. Dollar vs. many other currencies is starting to affect camera equipment pricing. We have been notified by Canon and Sigma that they will be raising prices between 5% and 10% effective May 1. It is probably only a matter of time before Nikon joins the party. We will hold our prices until then but we will need to raise them when our
costs go up.


Visit PhotoMed at the CDA Meeting
in Anaheim, May 2-4. We will be in booth #2034.

We will be introducing the Canon A650 and we hope to have the
Canon Rebel XSi (if Canon can ship them in time!).

Stop by and check out the latest in cameras, mirrors, retractors, books and anything else we can find that is useful for dental photography.



Plan to visit PhotoMed at the
following dental meetings:

May 2008
CDA, Anaheim, CA
AACD, New Orleans, LA
AAO, Denver, CO
June 2008
Quintessence/Ceramics Symposium,
- Century City, CA
July 2008
PNDC, Seattle, WA
August 2008
ICOI, Chicago, IL




Is there a product that you would like
to to carry or a service that you think
we should offer? Let us know! We are always looking for new ways to help our doctors.
Email your questions, comments, observations, etc. to PhotoMed